Here is what everybody brought:
Swinebread of Atomic Romance brought the mystery meat, which was actually quite good! As you probably already know, I have always been fond of food that has an inherent risk to it.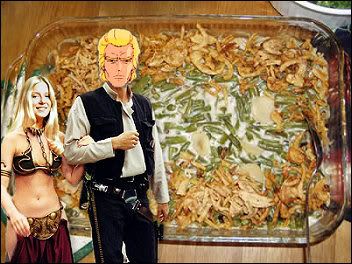 Jon the Intergalactic Gladiator brought his mother-in-law's green bean casserole. His mother-in-law is going to be mad, though. He forgot to bring home the dish!
BAC of Yikes! brought her famous psychedelic jello salad! It was great! Everyone was counting ceiling tiles for hours. (I'm getting a contact high just thinking about it.)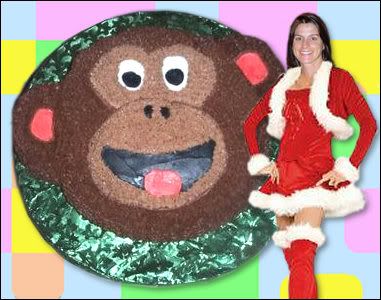 GETkristiLOVE of Two Minutes In The Box brought a swell monkey cake! Because it was chocolate, Dr. Zaius had to have two slices.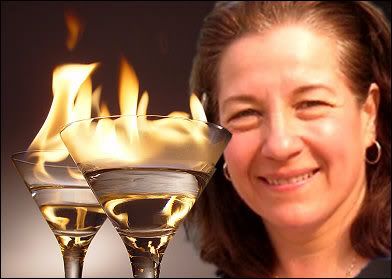 FranIAm brought some great Flaming Cocktails! Jon the Intergalactic Gladiator had one too many, and caught his perfectly coiffed 'do on fire at one point, and we had to put it out with one of...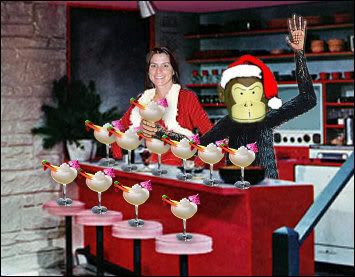 Dr. Monkey Von Monkerstein's delicious Banana Daiquiris! He made several batchs for everybody. He is quite the accomplished bartender, you know.
Despite my protests, Dr. Zaius brought some homunculus eyeballs in applesauce. I told Zaius to bring something else! As you can guess, they didn't go over very well. Swinbread was the only one who could stomach them, and even then we had to get him drunk first.
I brought pan-roasted belladonna quail with sweet potato gnocchi,
heavy on the belladonna.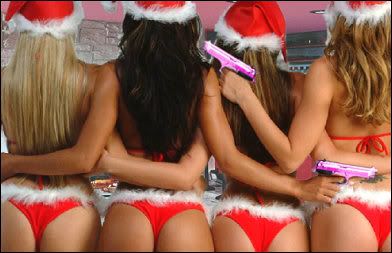 And after dinner the girls of the LGPPP put on a floor show!